Posted by Aaron ·:· December 11, 2011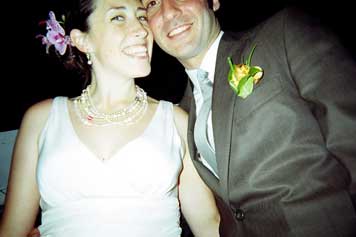 As you can see by the counter on the right, it's been a while since we were married. Well, we finally got around to developing the last of the photos from our big day. When we were planning the wedding we decided it would be fun to hand out disposable cameras to the kids so they could participate in capturing some of the event highlights.
To be honest, my expectations were low – but I must say I was more than pleasantly surprised by the results. In fact, I'd say some of these shots are among my favourites. The graininess and de-saturated colour of the images, the often skewed composition and perspective, the many over-exposed shots – all of these factors create a really unique and candid collection of photos that capture the fun of the wedding.
It just goes to show that you don't need expensive equipment or years of experience to take great shots; sometimes a kid's perspective is all that's required. A great big thank you to all of the kids that took these shots: Regan, Spencer, Nathan, TJ, Ruby, Ollie, Lila, Julian, Jack, Charlie, Savannah and Evan.
Check out the embedded slideshow below or view the album full screen.
3 Responses to "Even More Pictures: A Kid's Perspective"
Aunt Dorothy Says:
December 12th, 2011 at 11:24 am
Aunt Dorothy Says:
December 12th, 2011 at 11:25 am
Aaron Says:
December 12th, 2011 at 11:36 am
Leave a Reply