Posted by Aaron ·:· December 11, 2011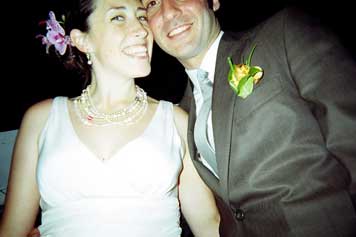 As you can see by the counter on the right, it's been a while since we were married. Well, we finally got around to developing the last of the photos from our big day. When we were planning the wedding we decided it would be fun to hand out disposable cameras to the kids so they could participate in capturing some of the event highlights.
Posted by Aaron ·:· August 24, 2010
As some of you may recall from our wedding, Tara and I sang this John Prine song together. Recently on a little vacation at a farm near Meaford, Ontario, we were inspired to record a new version for your enjoyment/amusement.
Posted by Aaron ·:· December 22, 2009
A huge heartfelt thank you to everyone who was involved with our wedding. I for one underestimated the immense amount of work that goes into planning a wedding, and we couldn't have done it without the help of family and friends. Apologies for the long delay in getting these out…I guess that's what happens when two expert procrastinators get married. Plus we just bought a house.
Posted by Aaron ·:· October 19, 2009
These lovely photos come by way of Kurt Uriarte and his fancy-dancy Nikon D5000. After a couple of months of married life it was really nice to be reminded of what an amazing weekend we had with everyone. Thanks a lot Kurt!
Posted by Aaron ·:· August 30, 2009
Well, despite the rainy weather, some great wedding moments were captured over the weekend. We actually feel very fortunate about the weather considering the torrential downpour followed by the sweltering heat on Sunday, and the tornado that blew through Durham a couple of weeks later.
Posted by Tara ·:· July 28, 2009
Our lovely love birds in the nests Tara made
We hadn't really thought about topping our wedding pie (yes, we're having wedding pie) with any sort of ornament until we were inspired by these irresistibly cute little creatures
. We loved the idea, but it just wasn't at the top of our ever-expanding to-do list. Until fate intervened when we attended Phog Fest
, a music festival at Phog Lounge in Windsor. Read the rest of this entry…
Posted by Tara ·:· June 8, 2009
Our lovely juniper heart wedding bands
When it came to choosing our wedding bands, it took us some time to figure out what we wanted. Our original plan was to make white gold wedding bands together at a workshop in Toronto. We signed up, paid the fee, went to a jewellery store to get sized and…it just didn't feel right. We weren't 'gold' people (except for our hearts of gold of course). So we cancelled the workshop and regrouped. Read the rest of this entry…
Posted by Aaron ·:· May 15, 2009
If you know Tara and I well enough, you know that music is a significant part of our lives. Which is why we wanted to have a wedding that incorporated as much live music as possible. We are fortunate to have many musical friends and family and they have graciously agreed to share their gifts with us for our wedding. Read the rest of this entry…
Posted by Tara ·:· April 25, 2009
Woohoo!!! My first ever blog entry (and marriage). First off, let me say another welcome! We are so excited to bring our family and friends together to sing and dance and celebrate with us.
Planning this event has been a wonderful opportunity to ask "hmm…how can we reverse climate change and save humankind?" Or, perhaps more realistically, how can we create a life together that is gentler on the planet? In turn, we have been inspired in ways that we did not anticipate. So as not to overwhelm you with gratuitous inspiration, I think I will write a series of shorter 'deep blog thoughts.' Today's inspirational topic is the love, love, lovely EcoNest® at Riverstone Retreat Centre (where our parents and Aunt Judy will stay for the wedding). Read the rest of this entry…
Posted by Aaron ·:· April 5, 2009
Welcome to our Wedding Website. Here you will find all the information you need about our wedding. You can learn more (like who takes credit for hooking us up) by checking out Our Story. The Wedding section will tell you all about the weekend festivities and Your Stay lists some accommodation and activity options as well. And best of all, you can RSVP right here too! If you have any questions at all please contact us.
This page is the blog where we will be posting news about our event, questions about planning and thoughts on our life together. Cheesy? Yep. I got a lot more where that came from too. Read the rest of this entry…